This morning I was checking up on my blog roll and I found several great giveaways that I wanted to tell you all about, in case you didn't know.
The first giveaway is for a HearALL Assessment Recorder. I'll admit at first I was like, a what? But after reading about everything this little thingymabob can do I've decided I would love to have one!!! What you need to do to enter for a chance to win is to head over to Amanda's blog
Teaching Maddeness
. Good luck!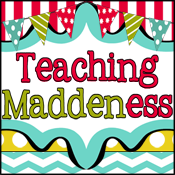 The next giveaway that I found is being held by Rebby over at
Classroom Compulsion
. This is her first giveaway, how exciting! There are three great prizes being offered to the winner of her first giveaway. The prizes include a $5 gift card for Target, (who doesn't LOVE Target?!?) $10 worth of free stuff from her TPT store (love it) and Misty over at
3rd Grade's a Hoot
has added her Owl Classroom Decor Pack to the giveaway (jackpot!).
Can you believe I'm not done yet?!? Nope, still one more giveaway to gab about (hence the title Giveaways Galore!) Mary Pitner over at Pitner's Potpourri is celebrating her first blogaversary with a tremendous giveaway. With the help of some friends and fellow bloggers she is giving away so many great items I'm not even sure I can list them all so you just need to check it out for yourself!
I think those are all of the giveaways going on right now (at least by the blogs I follow). If you know of any other really awesome giveaways you can leave me a comment to tell me about them. If you don't leave me a comment I'll know it's because you are trying to increase your odds of winning and the competitor in me will totally understand :) Just kidding!

Wishing everyone a wonderful Wednesday!!!